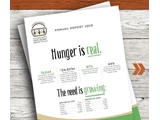 Read Our 2020 Annual Report
Community Food Basket – Idaho Falls has finished all of our year-end counting for the crazy year that 2020 was. We are so grateful to the community who helped us keep our doors open to those facing hunger all throughout the pandemic.
A little comparison to see how you have helped us help others this last year:
2019 – 12,517 families served
2020 – 17,516 families served
2019 – 21,204 were kids
2020 – 32,306 were kids
2019 – 2,788 were seniors
2020 – 4,800 were seniors
2019 – 409 were Veterans
2020 – 981 were Veterans
2019 – 50,360 total people served
2020 – 74,310 total people served
We shared 53,564 lbs. of food with 35 different nonprofit agencies, schools, and meal programs in support of the work we all do, as partners. We were able, with the help of many, many volunteers, to bring in and redistribute more than 2,739,000 lbs. of food to those facing hunger and food insecurity in our area. That equals more than 2,283,000 meals provided to those who may otherwise go without.
97% of that food we acquired at $0 cost. When we did purchase to meet the growing needs, we were able to stretch every $1 donated into more than $4 worth of food!
Community Food Basket, with the help of the Idaho Diaper Bank, distributed more than 108,000 diapers to babies.
We made it folks! And with the continued support of the community, we will continue to meet the needs of those struggling with empty bellies and food insecurity.