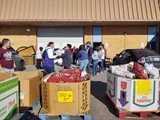 The Souper Bowl 2021 is a Smashing Success
After an unpredictable and often scary year, we're incredibly excited to start 2021 with the incredible news of The Souper Bowl! District 91 has now reported more than 170,000 food items collected in this food drive compared to 116,170 items in February 2020.
Community Food Basket – Idaho Falls is so grateful for the Souper Bowl drive and for the passion of these students to help their friends, neighbors, and even those they have never met in our community!!! We often ask the students "look at the person sitting next to you. Do you think they had a healthy breakfast this morning? Did they have access to a nutritious meal last night?"
Hunger is not an easily identifiable crisis at times. There may be no obvious signs seen from afar. but it does exist, sometimes even next door or in our own homes. These students are definitely doing their part, with the help of the community, to free up some space in the minds of those who are struggling to tackle their next challenge in life….with a full belly.
Thank you School District #91, Skyline High School, Idaho Falls High School and everyone who gave time, dollars, and food to help us continue our mission to feed those in need.